As National Sewing Month comes to an end, I'm looking back at all of my projects from this month and from the summer. This summer has been very productive and I've loved every minute of it. Though I did not get to make everything I wanted to, here are a few of the pieces I made: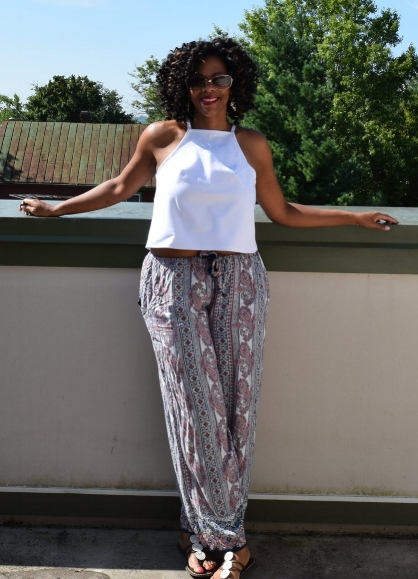 The top is a wearable muslin from a self-drafted pattern. It is made from a ponte that I got at Joann Fabrics. The pants are paisley/stripe rayon from SewVagabondshop.com using a Butterick pattern I've had for 20 years (!!)
This dress was truly a labor of love. It started as an 80 (yes, EIGHTY) page PDF pattern that I had to tape and glue together. I used the same ponte as the muslin above to make this. The trim is also from Joann fabric. It's very comfortable and easy to wear.
This dress was made from a self-drafted pattern that I based on a dress that I got from Zara but ended up being too small. The fabric is from the Cape May collection from Joann Fabrics. The purse is from one of my design idols- Tory Burch.
This outfit is comfortable and truth be told, a bargain. The fabric came straight from my happy place: the $2.97 wall at G Street Fabrics in Rockville, Maryland. The pants are made with the same 20 year old pattern that I used above and the top is actually a slightly too-tight/too short muslin from pattern I created by tracing an old shirt. It's a work in progress :-) The purse is an original design by me. You can purchase yours here!
This was one of my favorite summer DIY projects. I conceptualized the dress, drafted the pattern and made it. My favorite things about it? It was fairly quick to make and definitely easy to wear. I'll be throwing a jacket over this one to take it into fall.